We are so proud to welcome you to Grey Stone Preschool and Kindergarten!!
Our school seeks to provide a quality education program in a loving, caring environment for children ages two through kindergarten. We are dedicated to the principle that "education is a process by which children are assisted in their individual growing."
We believe that every child has his own pattern of growth which is the key to his individuality and every child has a right to have his pattern of growth and individuality accepted, respected and used as a basis for planning his/her educational program.



Grey Stone Preschool and Kindergarten is a traditional half-day program offering classes for ages 2 to 5 and Kindergarten.
2018-19 Registration
is OPEN to ALL
Please call to schedule a tour of our classrooms and register today.

Already Registered?
Don't forget your Medical Form!
Medical forms are available at the school front desk or for download online. If you need a form mailed to you, please call the school at (919)354-6173, leave your full name and address, and we will mail that form to you.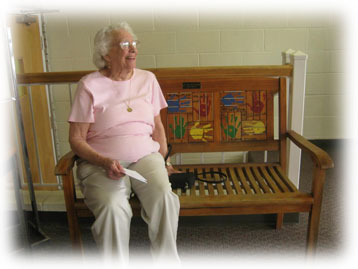 We hold forever in our hearts the love and light of Mrs. Beth Gray.
October 2, 1922---December 29, 2015
"She was a lifelong Episcopalian and founded the St. Luke's Episcopal Kindergarten in Durham, NC, where she taught and which she directed for over fifty years, retiring in 2007, at the age of 85.  During that time, she positively influenced thousands of students, parents, and teachers with her loving mentoring and guidance.  In 2007, the governor of North Carolina, Michael Easley, conferred upon her The Order of the Long Leaf Pine in recognition of her "integrity, learning and zeal" during her long and innovative career in early childhood education."
"In lieu of flowers, donations for scholarships in memory of Beth Gray can be made via check to "Grey Stone Preschool and Kindergarten" at 2601 Hillsborough Rd., Durham, NC 27705, where Beth's teaching program and philosophy continue. "

-Severe Weather Closings
Tune in to WTVD, WRAL and WNCN for all the severe weather announcments and school closings. Look for Grey Stone 1/2 Day School or Grey Stone Preschool and Kindergarten.
- If Durham Public Schools are closed, GSPK will be closed.
- If Durham Public Schools close before noon, please pick up your child as soon as possible.
-The 24 Hour Rule
Children should be free of fever for 24 hours without fever reducing medication before returning to school.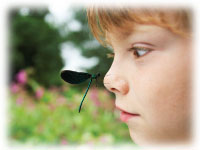 "Education is a process by which children are assisted in their individual growing."
What's the Weather?
Just ask
Kindergarten!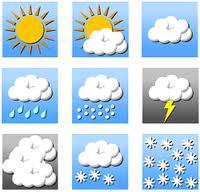 The Grey Stone Kindergarten class enjoyed learning all about weather. They asked lots of questions and showed their "weather smarts" when the weather expert, Meteorologist Bill Reh came to visit! Around the Kindergareten Class he's simply known as, Mrs. Reh's husband.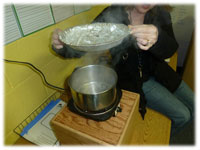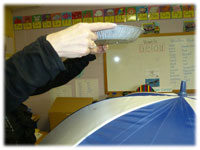 - Mrs. Reh making rain inside the classroom!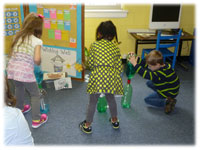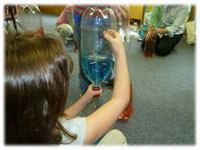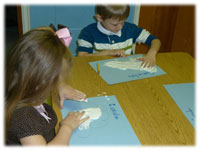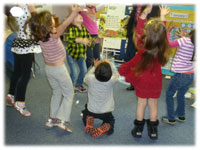 - Puffy clouds and falling snowballs!